Coach Adam Maloney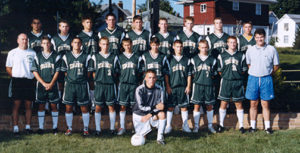 After an outstanding prep career at keeper, culminating in high school state championships and state and regional club championship matches, Adam joined the Xavier men's soccer program. His career stats and honors include:
Specialty: keeper training, tactics.
Adam motivates players through his outstanding technical abilities and vast knowledge of the game. He can explain technical and tactical applications by recalling  actual game situations where it was applied. And games. Adam is great at making training sessions fun and competitive.